It was truly 'the forgotten war' - the allied campaign in the Aleutians. Not a nice place to be...!

And if you had to serve in one of the old 'S' Class boats of the US Navy...definitely not a nice place to be !

Japanese troops, having landed on the Aleutian Islands of Kiska and Attu in 1942, had actually secured a foothold on the North American continent, and obviously had to be contained. American and Canadian forces therefore established bases in Alaska to this end, the most important of which was the tiny port of Dutch Harbor.

In this (rather gloomy) painting the US submarine S32 is seen slipping into the bleak port after a successful patrol. On her periscope is lashed the traditional broom, indicating a "clean sweep" - she has sunk all targets attacked. From her after periscope flutters...well, shall we say...an item of "lady's apparel"...of which, perhaps, the less said, the better...!

The 'S' Class ("Sugarboats" - or sometimes "Pigboats"...!) were rather poor old ladies by the time WWII came into effect, and certainly not the popular conception of a typical US fleet submarine.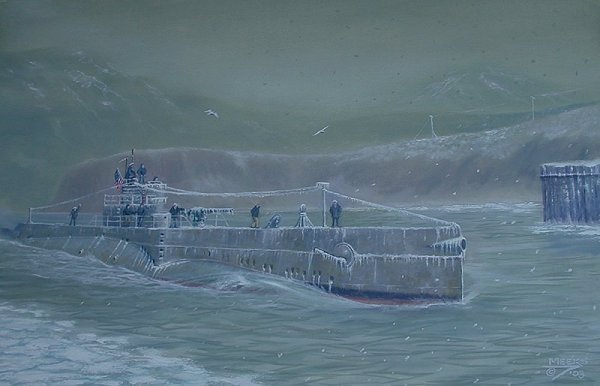 John Meek's "Pacific War" series
Built in the early 'twenties from essentially WWI designs, they were small, inhospitable, uncomfortable and definitely out-dated vessels. But they did sterling work in that interim period from 1941 through 1943/4.
The main enemy in this theater of war, of course, was...the weather...! In spite of the ice, the light snowfall and the gloom...this scene does not depict mid-winter ! The sole comfort was that the rather miserable Japanese troops posted to this remote area were having to cope with the same conditions !

It may have been a forgotten war - but the men who served on these boats in it most certainly will not have forgotten...!