USS Albacore (AGSS-569)
Artist: Dan Moss
Subject: USS Albacore (AGSS-569), research submarine
Original picture is pen and ink on paper
Pack of 10 printed note cards & envelopes (approx 7" x 5")
The artist says:
"USS ALBACORE (AGSS 569) - an American research sbmarine - now located in a museum in Portsmouth New Hampshire USA.
The drawing was inspired because I was stationed on it in the early 60's. Albacore was the first modern cigar-shaped submarine, it held the world's underwater speed record for many years. It carried no weapons, and was 205 only feet long. At one time it had five rudders (an X shaped stern with four rudders and a rudder on the after end of the sail) and no bow/fairwater planes which made her EXTREMELY maneuverable. Extreme angles were the norm for this Ferrari of the seas. Today she rests in all her glory in a specially constructed "cradle" for all to enjoy."
These note cards are executed by a retired submariner using only dots to create a one-of-a-kind tribute to the Silent Service of the United States Navy.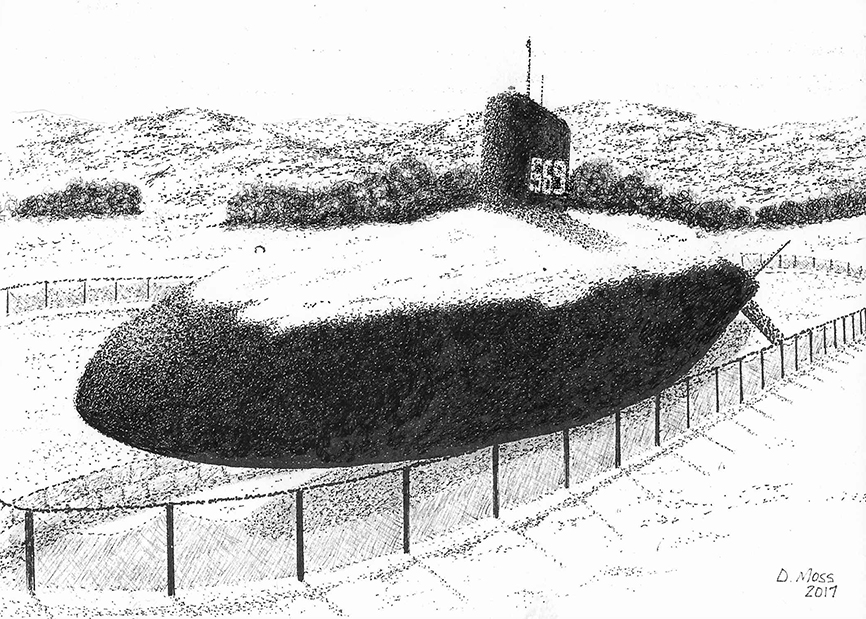 These cards with envelopes come in PACKAGES OF TEN. Net proceeds support the Arizona Silent Service Memorial Foundation which seeks to establish a permanent submarine memorial in the "front yard" of the state capitol in Phoenix, Arizona.
This monument will honor all submariners. Please visit their website at www.arizonasilentservicememorial.org