Canada and submarines somehow don't seem to go together without controversy from time to time....

'Twas ever thus !
The tradition seems to have started with these two little boats, precisely on the very first day of World War One !
In 1914, Canada had no submarines. One person who most definitely thought that it was high time they did something about this, was the Premier of British Columbia - Richard McBride.
His reasoning was not unsound. He noted that, although far from the Atlantic Ocean - not to mention Flanders' fields, Vancouver Island, Victoria and Vancouver were potentially remarkably close to the threat of sea borne attack from German capital ships then cruising in the Indian and Pacific Oceans.
Whilst he did have the courtesy of discussing his concerns with Ottawa - he did not have the patience to wait for a response (you can hardly blame him, really ...) and immediately set out on a quest for boats on his own. He found them, not too far away, in the Moran Bros. shipyard, Seattle USA. The two boats in question had just been built for the Chilean Navy, but the South Americans had cancelled the order since the boats did not come up to their specification. McBride thought that they would fill the bill excellently - even if the asking price was going to be more than had been asked from Chile ...!
(Canadian readers may start to have a sense of "deja vu" here ..... )
Before being authorized by the Federal Government, McBride bought the two subs - with British Columbian (not Canadian) taxpayers' money ! On 4th August 1914, the two little submarines were spirited out of Seattle and managed to get into Canadian waters just ahead of a pursuing US warship ! America was of course neutral in the conflict at that time and fearful of their neutrality being broken by the whole affair. For the time being, then, British Columbia had a teeny-weeny navy of it's very own !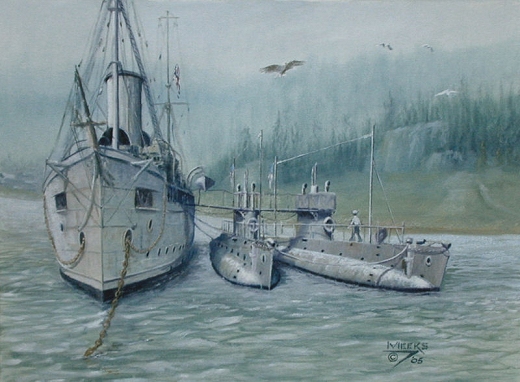 Canada's first submarines CC1 and CC2 alongside HMCS Shearwater


Ottawa did come through, however; they forked over the cash and accepted the boats, which were duly commissioned into the Royal Canadian Navy as HMCS/M CC1and CC2 (quite imaginative really ...... ?) A retired sloop, HMCS Shearwater was recommissioned and put into service as a submarine tender, and "Voila !" - Canada had her first submarine fleet !

And then (not for the last time) the fun started ... !

Questions started to be asked in the house !

It turns out that, (apart from the fact that it was soon discovered that the price of the purchase had been inflated, mainly to pad out a pretty hefty commission to the builder !) when McBride had requested his reimbursement from the Federal Government, "an administrative error" had requested an additional $100,000 ! The whole thing blew up into a full Government enquiry - from which everybody escaped unscathed, but .... you know .... !

As it happened, the two little submarines, which were actually quite adequate for their day, never saw action, but served quite well for training purposes. They remained stationed in Esquimalt BC for most of the War, until it was decided that they be reallocated to The Mediterranean. Which is when they embarked upon their "fifteen minutes of fame". Shearwater and her two little charges set out in 1917 on a remarkable voyage of nearly 8000 miles down the West Coast of North America, through the Panama Canal, and up the East Coast to finally arrive in Halifax, Nova Scotia. They suffered extreme heat, mechanical breakdowns by the score, horrendous seas and illness among the crews. They had actually been brave little boats, but by the time they arrived, their diesels were worn out beyond operational usefulness. Serving for a while in a local defence capacity, they were finally decommissioned and scrapped in 1918.

But ... for Canada ... they had been the first ... !