It appears that we're being urged to keep our voices down....!
And understandably so...!

The so-called "coastwatchers" - mostly Australian and New Zealand volunteers - were somewhat unsung heroes of the Pacific War; living alone, in secret, on isolated small islands and atolls, risking their lives to observe and report on Japanese activities throughout the South pacific. Truly brave men.
...but I digress....!
What this guy has spotted and is observing, is a Japanese 'C' class submarine, apparently starting to unload supplies to the local army unit. This was
a not uncommon activity in the South Pacific, with Japan's army spread out over literally thousands of small islands, and her Merchant Fleet rapidly being decimated by allied forces.
I have depicted this boat as being the I16 - mainly because she was used for such work during much of the war. Obviously we are seeing her in
late 1942, or very early 1943, since she was shortly to be modified for conducting this work on an ongoing basis. Her deck gun was removed, and she was equipped to carry an amphibious landing craft on her foredeck.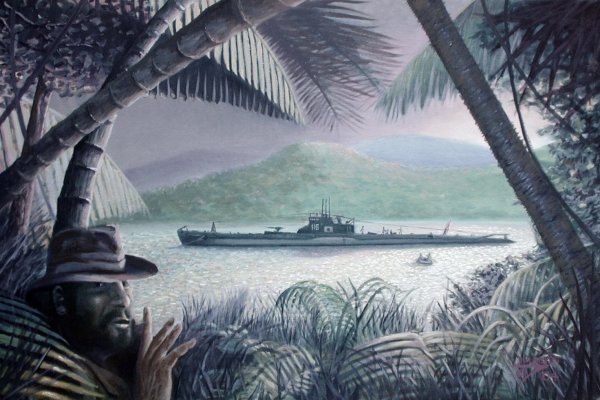 This class of boat was probably the most successful of all the large Japanese subs, and they generally acquitted themselves quite well. Nearly all of the eleven built were lost however, including I16, which was sunk in 1944.
Now...I've gotta get out of this undergrowth ! ...I'm being eaten alive... !
J.M
.