Today is the day these fellows have been waiting for for a long time! Yes...it's August 1945, World War II is at last history....and it's gonna be a hot time on Broadway tonight!

(...That's not Broadway in New York, of course; ... but Broadway in .... well,...look at that bridge - we all know where we are, don't we !)

One of the US Navy's Fleet Submarines that was based in San Francisco, and was able to return there shortly after Japan's surrender, was USS Pampanito. Whilst this painting doesn't specifically identify that particular boat - I've cultivated something of a 'soft spot' for the old girl, and have come to think of her as the subject for this piece - so...allowing for some artistic license...that's the way it's gonna be...!

I like to think that I have created something of a relaxed and celebratory mood here, as the sub -proudly escorted by a few seagulls, is greeted by a pair of Navy "Corsairs" roaring out over the now peaceful Pacific. In the background, the Golden Gate Bridge invitingly looms out of the (obligatory...) fog banks that constantly drift over the Northern Californian coast.

What is going through the minds of these men ? One can wonder. Is the city before them their home town? Do they have loved ones, perhaps children waiting for their arrival? Are they looking forward to picking up a pre-war career ? Are they faced with mending private lives that have been shattered by the recent conflict ? Do any of them face confusion in making new lives in a civilian life that they have never experienced ? Do they still mourn lost shipmates or friends ?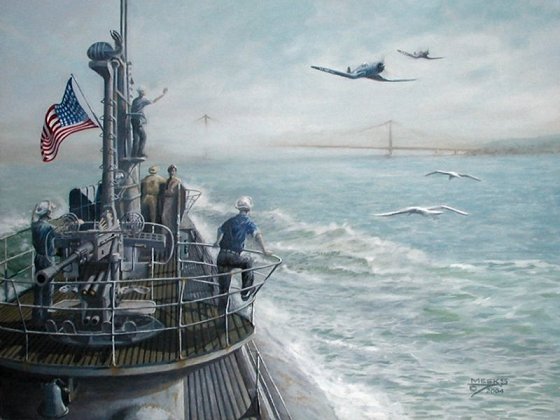 John Meek's "Pacific War" series - Balao Class Fleet Submarine
Undoubtedly all of these conjecture will apply to this battle-scarred crew to some extent. But they can all be assured of one thing; they all face the prospect of living in a new, changed, peaceful world. A world of new wonders and challenges; television, fast food, credit cards, computers, jet flight, Rock'n'Roll, the Cold War, atomic arms races, the civil rights movement, Elvis Presley, JFK, The Beatles, Haight/Ashbury, space travel, Al Quaeda, Korea, The Gulf War, Iraq, "9-11", Vietnam.....

Oh, well...nobody said that everything would be improved.....!

USS Pampanito SS-383, by the way, has been lovingly restored to its original condition, and can be seen and toured at her mooring at Fishermans Wharf in San Francisco, California. There is also a most excellent website which provided much information whilst researching this painting: www.maritime.org/pamphome.htm