In truth...those sailors topside should probably be a little less relaxed than they obviously are...!

Intercepting and investigating the substantial and polyglot fleet of fishing boats, Sampans and other small craft that filled Pacific waters near the Japanese home islands was a fairly common occurrence in the latter stages of WWII, and there was always some risk involved. Was this really a fishing boat? Or was she carrying Japanese Naval officers, radio equipment, and even depth charges?

Whatever the truth, the chances were quite high that, whatever she claimed to be doing, she was going to become the victim of one of those deck guns!

This canvas puts us on the deck of a U.S. Navy Gato/Balao Class fleet submarine, the archetypical U.S. Pacific boat that formed the backbone of America's Pacific submarine war effort; one of the big guys - apparently equipped with such unheard of luxuries as an ice-cream maker and a washing machine!

One can only assume that Admiral Doenitz would have disagreed with that and substituted a couple of extra torpedoes...! But then, his crews were sailing in a colder, smaller pond...!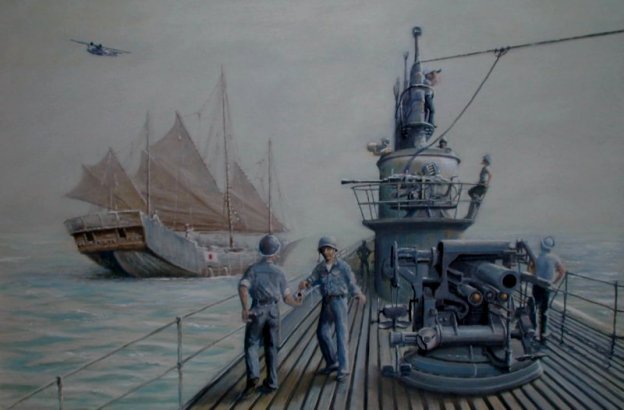 John Meek's "Pacific War" series
Evident in the painting is the forward mounted 5" deck gun, and the 40mm cannon on the conning tower. Not seen is the after mounted 5" deck gun and a second 40mm cannon mounted on the after 'winter garden' - or "smoking platform" as U.S. crewmen preferred to call it. American boats probably carried the heaviest deck armament of any of the combatants. They also put it to good use! By 1945, U.S. submarines had virtually eliminated Japan's merchant fleet.
Also evident, in the top left corner, is the small but vital shape of a Consolidated PBY Catalina flying boat, doubtless keeping a wary eye on the proceedings...