U31 at the Marineehrenmal Laboe/Kiel
Artist: Andreas Kruse
Subject: U.Boot Type 212A
Medium: oil painting on canvas, 40 x 50cm
Prints: made to order Giclee prints on CANVAS stretched over wooden frame same size as original painting

The German Type 212 is a highly advanced design of non-nuclear U-boat developed by Howaldtswerke-Deutsche Werft AG (HDW) for the German Navy. It features diesel propulsion and an additional air-independent propulsion (AIP) system using Siemens proton exchange membrane (PEM) hydrogen fuel cells. The submarine can operate at high speed on diesel power or switch to the AIP system for silent slow cruising, staying submerged for up to three weeks without surfacing and with no exhaust heat. The system is also said to be vibration-free, extremely quiet and virtually undetectable.
Partly owing to the "X" arrangement of the stern planes, the Type 212 is capable of operating in as little as 17 metres of water, allowing it to come much closer to shore than most contemporary submarines. This gives it an advantage in covert operations, as scuba-equipped commandos operating from the boat can surface close to the beach and execute their mission more quickly and with less effort.
A notable design feature is the prismatic hull cross-section and smoothly faired transitions from the hull to the sail, improving the boat's stealth characteristics. The ship and internal fixtures are constructed of nonmagnetic materials, reducing significantly chances of it being detected by magnetometers or setting off magnetic naval mines.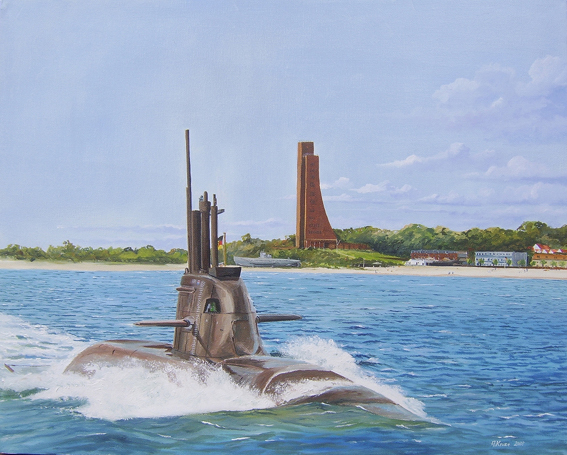 In the background of the painting the WW2 U-boat U995 can be seen in front of the Ehrenmal monument in Laboe, Kiel.