USS Jallao (SS-368) is shown outbound on the Thames River, Groton, CT having departed the Groton Submarine Base (not visible) and is passing the U. S. Coast Guard Academy, New London, CT, on her starboard side.

This Balao Class submarine was built by the Manitowoc Shipbuilding Company, Manitowoc, WI and was commissioned on 8 July 1944 with LCDR Joseph B. Icenhower in command.

She arrived Pearl Harbor 11 September l944 and departed for her first war patrol on 9 October l944. On this patrol she sank the damaged Japanese light cruiser TAMA. During her second war patrol, on 5 March, she had her periscope damaged when an enemy escort tried to ram her. She made two more more patrols and on her fourth and final patrol in the Sea of Japan, sunk a 6,000 ton freighter on 11 August l945. Four days later, hostilities ended.

She was decommissioned and transferred to the Pacific Fleet Reserve at Mare Island, CA on 30 September l946. Jallao's homeport was changed to New London, CT and after streamlining was recommissioned on 4 December 1953.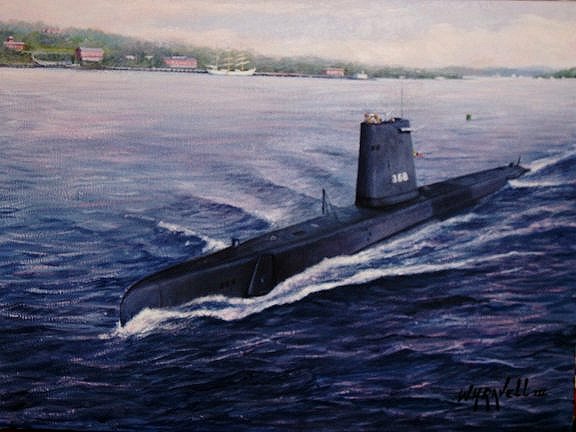 Jallao remained in service until she was decommissioned and sold to Spain 26 June l974 where she served under the name Narcisa Monturiol.
She was awarded four battle stars for her wartime service.