USS Scorpion SSN589 pictured here was one of 6 boats in the Skipjack Class.

This particular nuclear attack submarine was built by Electric Boat, Groton, United States and commissioned on 29 July 1960 with Norman Bessac as Commander.

Her sister boats, USS Scamp, Sculpin, Shark, Skipjack and Snook all successfully completed a long service with the US Navy and were eventually scrapped in the 1990s.

USS Scorpion however was not so fortunate. After nearly 8 years of service she left her Norfolk home-port on 15 February 1968 for Mediterranean deployment. On completing several months of operation in that area with the 6th Fleet Scorpion headed off alone in May, homeward-bound. Communication reporting her position to be approximately 50 nautical miles south of the Azores was received on 21 May and then she simply disappeared. On 27 May Scorpion was officially reported overdue at Norfolk and a search was duly initiated. Nothing at all was found in the area and all hands were sadly declared "presumed lost". On 30 June 1968 USS Scorpion was officially struck from the US Navy List.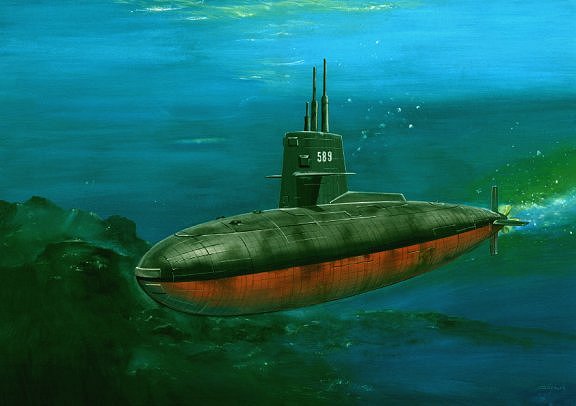 Skipjack Class - clearing showing the tear-drop shape adopted by many of the submarine's successors.
In October 1968 the research vessel Mizar discovered the resting place of Scorpion some 400 nautical miles southwest of Azores, 10,000 feet beneath the surface. The wreck is still monitored today to check for levels of radio-activity.
No reason for this tragedy has ever been established and suspicions that it may have been caused by an unexpected torpedo explosion remain unsubstantiated.
12 Officers and 87 crew lost their lives.