The most successful British submarine commander of WWII. And he did it in a small "U" class coastal boat in a wartime career that sadly came to an early end in 1942! Surely, a most remarkable man.
Operating in The Mediterranean, this tall, grimly determined Scot together with his crew of 32, made HMS Upholder the scourge of Italian seapower. His final total contribution to the Allied cause was the sinking of some 21 enemy ships - including two destroyers and three submarines!
In 1941, whilst continuing his patrol successfully after receiving massive damage to his boat that left her without asdic, he penetrated two separate escort screens to sink two tankers and a large Italian troop transport
For this action, he was awarded the Victoria Cross.
Sadly, Wanklyn's career came to an abrupt end in 1942, when Upholder was lost with all hands off the North African coast.
Nearly every photograph I've seen of Wanklyn shows him with an infectious, happy smile. It seems that he was a well liked character, and softly spoken. (And, incidentally, his crew - in spite of being "Royal Navy men" - appear to be a just as "laid back" and scruffy lot as any U-Boat crew ! )
Please note the original painting
and all prints are signed by the artist.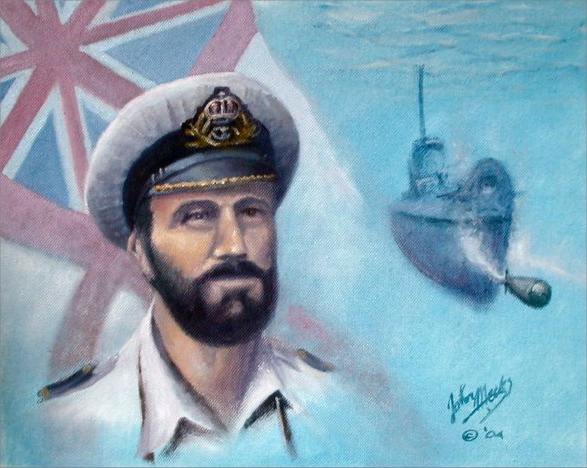 However, I chose to portray him as I suspected him to appear when he was, so to speak, "at work"; seriously scanning the horizon, perhaps, for signs of enemy activity....
And, oh yes ..... he was only 29.
Yet another testimony to the utter stupidity and waste of War.