It was 100 years ago that the Holland 1 became the Royal Navy's first ever submarine – even though it was somewhat reluctantly. People had been playing around with the idea of submersible boats for centuries. Indeed Bushnell's Turtle was as long ago as 1776, Fulton's Nautilus 1800, and the American Hunley, the first submersible to sink an enemy ship, did so in 1864.
The leading nations in submarine design at the end of the 19th century were the French and the Americans. The US Secretary of Navy, Mr Whitney, invited designs to be submitted to enable a submarine to be developed for naval use. Amongst others, Irish born John Holland from Paterson, New Jersey, put forward one of his designs which was accepted. Although originally it was designed to run with a new type of engine that used petrol, the US Navy in their wisdom, built it to use the more traditional steam engine. Launched in 1897 as "Plunger", she was a disaster as the steam engine made the interior of the submarine so hot that it would roast any man alive. Meanwhile John Holland independently built another submarine "Holland VI" using the innovative petrol engine. This more successful version was then finally bought by the Navy in 1900 and renamed USS Holland before being given its designation SS-1. The French had already commissioned the submarine Gymnote into their Navy 10 years prior to this.
By now the French, Americans, Spanish, Swedes and Turks, to name but a few, were all taking the submersible boat very seriously. Britain, however, was still not convinced.
They were forced to reassess their opinion though when the French submarine Gustave Zédé 'torpedoed' the battleship Charles Martel as it was leaving Ajaccio. If other nations were ready to use these submersibles in warfare then Great Britain, the ruler of the waves, had better be prepared too. In 1901 the Royal Navy ordered 5 Holland-design submarines to be built. Construction began in Barrow-in-Furness, UK, by Messrs Vickers, Son & Maxim (still trading today under the name of GEC Marine). The first UK submarine to be completed was Holland 1 although she nearly met a very quick end. During her trials she was instable and almost sank. Urgent modifications were carried out and Holland 1 (also known as HM Torpedo Boat No 1) and her 4 sisters became Britain's first submarine fleet.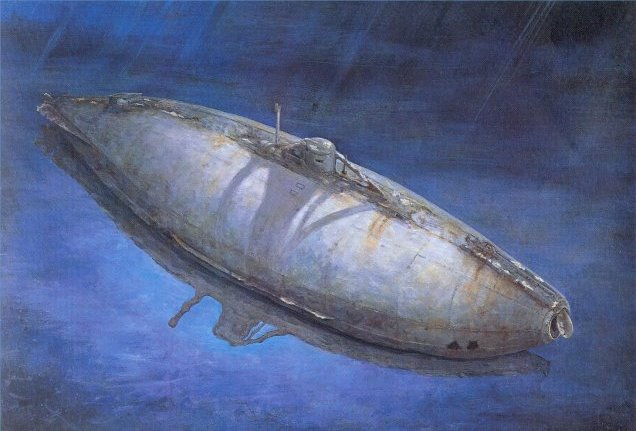 Despite being slow on the uptake the Royal Navy soon made up for lost time and at the outbreak of World War One Britain, with 87 submarines, had the largest fleet in the world.
None of the five original British Hollands sank whilst in service. But Holland 1 did sink on her way to the scrap yard in 1913. Because she narrowly escaped being melted down and reshaped into razor blades or ammunition casings for WW1, it was possible decades later for divers to find her sat intact on the bottom of the sea. This wonderful part of history had not been lost to us forever. Holland 1 was delicately salvaged in 1981/2 and has spent the last 20 years being justly pampered and restored whilst undergoing lengthy and expensive anti-rust treatment inside a preservation tank. Since May 2001 it was finally possible to see this rare antique again - Britain's first sub, Holland 1, was grandly unveiled and is now on full public display at the Royal Navy Submarine Museum, Hampshire, England. A great historical landmark celebrating more than 100 years of the RN Submarine service.
One of the Royal Navy divers who participated in raising the Holland in 1982 commissioned this painting in memory of fellow RN Diver Thomas 'Ned' Kelly.